The most effective video platform for multifamily
Want to boost lead conversion and provide a personalized experience for your current and potential residents? Look no further! Our platform offers a perfect blend of automation and personalization, making it easier than ever to save time and increase conversions.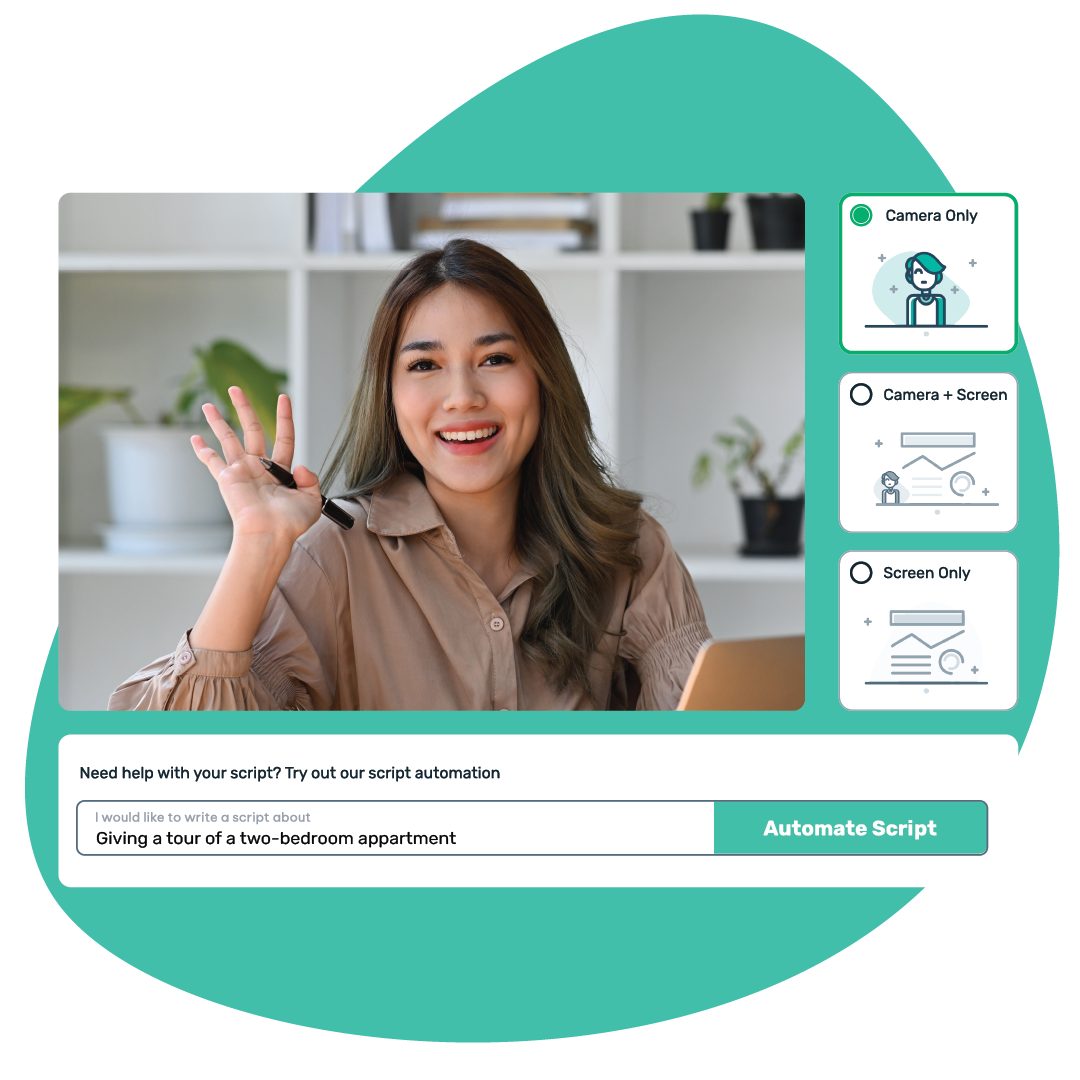 Bridge the gap between personalization and automation
Personalize the sales experience
Boost your close rate by establishing a lasting connection with prospects through inquiry, pre and post-tour videos.
Improve internal processes
Use videos to speed up processes such as maintenance requests or sending out lease renewal reminders.
Attract and retain top talent
Draw in prospective employees and ensure their satisfaction with a smooth and efficient onboarding experience.
Streamline and Convert
Improve sales efficiency and effectiveness
With our seamless automation feature that integrates effortlessly with a variety of CRMs, you can craft customized workflows that align perfectly with each stage of your sales cycle.
By harnessing this capability, you can deliver timely, targeted, and consistent video messages to prospective residents, significantly enhancing sales efficiency and scalability.
Organize and Contribute
Increase collaboration
and consistency
Having a centralized location for your teams to store and share approved, branded content has never been easier thanks to our digital library feature.
And since our mobile and desktop platforms work seamlessly together, you can contribute, review, and utilize shared clips no matter where you are, resulting in more impactful videos that save you valuable time.
Have questions? We have answers
How can I use personalized videos in my multifamily community?
Our video platform has many use cases, but we've found that leveraging video to elevate sales, marketing, recruitment, internal communication, and external communication strategies has proven to be highly effective for our customers.
What kinds of videos can I create for my multifamily community?
The types of videos you make will vary based on your specific needs, but there are primarily two main categories: personalized and evergreen content. Personalized videos allow you to address recipients by name and include details tailored to them. On the other hand, evergreen content involves recording videos that remain relevant over time, like a room or amenity tour.
Can I upload videos that I already have into the OneDay platform?
Definitely! Our digital library allows you to upload existing content, making it accessible to users throughout your organization. You also have the option to record fresh videos and store them in your personal library, or contribute them to a shared library for effortless collaboration.
Discover our latest blogs
Learn about the latest best practices, insights, and trends surrounding video so you can take your outreach to the next level.
Ready to learn more?
Request a free personalized demo with OneDay to learn how we can help your team achieve success with videos.