The ultimate video solution for senior living communities
Looking to enhance resident engagement, attract and retain top talent, and showcase your senior living communities? Your search ends here! OneDay offers the perfect solution with our user-friendly video platform, empowering you to boost efficiency and drive occupancy like never before.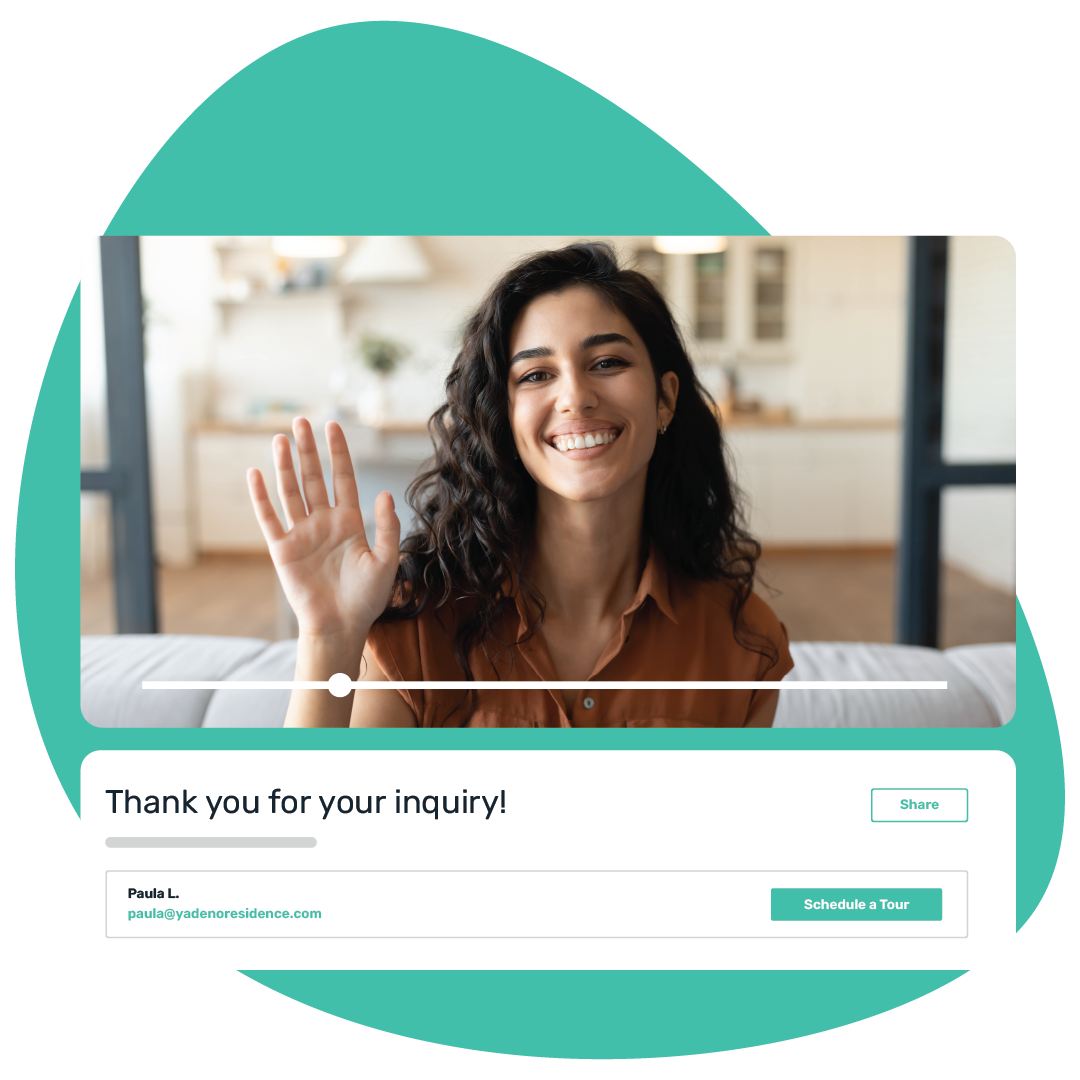 Why type it when you can record it
Revamp your sales process
Incorporate video at every stage of the sales funnel to boost move-ins and maximize occupancy rates.
Enhance the resident experience
Transform resident stories into cherished memories and compelling motivators for potential residents.
Foster a culture of recognition
Harness the power of video to make employees feel valued, appreciated, and inspired to deliver their best performance.
Showcase and Engage
Maximize sales effectiveness and impact
By leveraging video throughout the sales process, specifically during the stages of inquiry, pre-tour, and post-tour, you can effortlessly engage your audience and set yourself apart.
With our easy-to-use platform, you have the power to elevate the customer experience, increase engagement, and ultimately drive more move-ins for your senior living community.
Optimize and Streamline
Improve efficiencies across your organization
Our versatile video platform goes beyond just using video in your sales process – it can supercharge your marketing efforts, elevate internal and external communications, and streamline your recruitment process.
With our comprehensive dashboard analytics, you can effortlessly track viewer engagement, identify areas for improvement, and optimize your videos to save time and increase efficiency.
Have questions? We have answers
How can I use personalized videos in my senior living community?
Our video platform has many use cases, but we've found that leveraging video to elevate sales, marketing, recruitment, internal communication, and external communication strategies has proven to be highly effective for our customers.
What kinds of videos can I create for my senior living community?
The types of videos you make will vary based on your specific needs, but there are primarily two main categories: personalized and evergreen content. Personalized videos allow you to address recipients by name and include details tailored to them. On the other hand, evergreen content involves recording videos that remain relevant over time, like a room or amenity tour.
Can I upload videos that I already have into the OneDay platform?
Definitely! Our digital library allows you to upload existing content, making it accessible to users throughout your organization. You also have the option to record fresh videos and store them in your personal library, or contribute them to a shared library for effortless collaboration.
Discover our latest blogs
Learn about the latest best practices, insights, and trends surrounding video so you can take your outreach to the next level.
Ready to learn more?
Request a free personalized demo with OneDay to learn how we can help your team achieve success with videos.