The Objective
Jaybird Senior Living began using OneDay's video platform in some of its communities in 2019, and in 2022, they kicked off an initiative to leverage video throughout the sales process.
Jaybird's Corporate Director of Sales and Marketing, Danielle Vance worked in partnership with OneDay's Client Success team and VP of Strategic Development, Lacy Jungman, to identify activity goals and metrics to hold Jaybird's sales team accountable for using video:
Send personalized follow-up videos after every tour

Send 4 to 6 videos a week per building based on occupancy, size, and support

Hold meetings with top performers and those with the opportunity to gain occupancy

Incentivize top performer with a conference trip, and runner-ups with cash prizes
Communities that met or exceeded their OneDay goals had a 5.1% positive occupancy difference compared to those that didn't.
Within the first three months of this initiative, the results were significant:
In Q1, 10 Jaybird communities met or exceeded their video goals and produced 190 OneDay videos, resulting in an occupancy increase by nearly 4% in Q1, with net Move-ins/Move-outs of +15.

The top three communities that had the highest growth in Q1 had an average occupancy increase of 9%.

Communities that didn't hit their OneDay goals saw a 1.3% occupancy decrease over the same period, with net Move-ins/Move-outs of -13.
The Results
When looking at how the increase in occupancy impacted revenue, it was concluded that $837K in annual revenue was generated in Q1 from the net positive move-ins. If the trend continues throughout 2022, the result would be $3.35M in annualized revenue.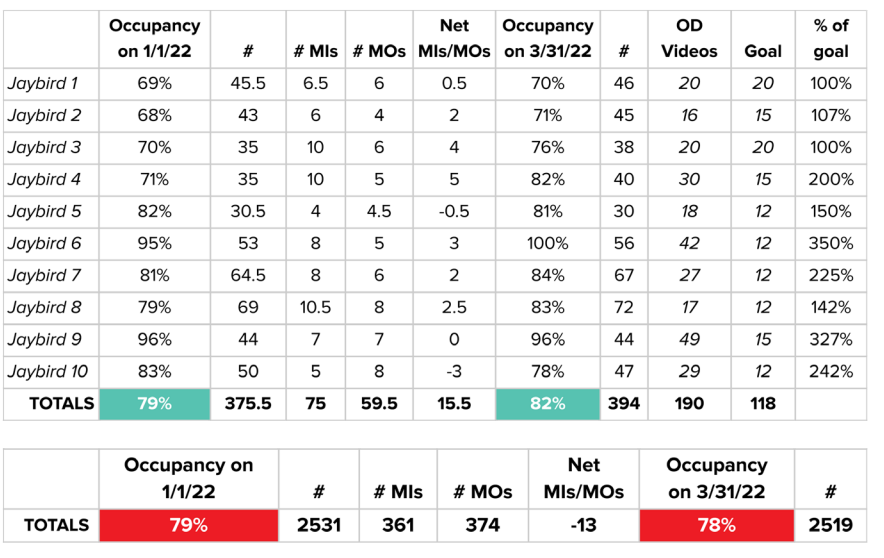 Communities that met OneDay goals:
3.8% occupancy increase

Top 3 performers increased occupancy by 9%

$837K in annual revenue generated in Q1 ($3.35M annualized)
Communities that didn't meet OneDay goals:
Jaybird made a difference by giving its potential residents a personalized, meaningful experience throughout the sales process, making an incredible impact on their bottom line.
By setting measurable, attainable goals for the communities and holding meetings with top performers, Jaybird was able to give its team a platform that ultimately led to an increase in occupancy and NOI.