The multifamily industry is rapidly evolving, and one of the most significant changes is the move towards centralized leasing. With centralized leasing, all leasing activities are conducted from a central location, allowing for a more streamlined and efficient leasing process. When you add video to that process you can help streamline that process even more. Video can play a significant role in centralized leasing by providing a more engaging and personalized experience for potential renters. Video marketing has emerged as a game-changer for the multifamily industry, offering numerous benefits such as increased engagement, personalization, and cost and time savings. In addition, by showcasing your property and amenities in a dynamic and engaging way, video allows potential renters to connect with your community on a more personal level. In this blog post, we'll discuss the role of video in centralized leasing and provide practical tips for creating and distributing compelling videos that resonate with your target audience. Whether you want to create virtual tours, testimonial videos, or promotional videos, we will help you develop a comprehensive video marketing strategy that meets your unique needs and goals.
How Video Can Help You Connect
Using video in the sales process can help you effectively connect with your prospects, which will help you to close more deals. Here are just a few ways using video can help:
Increased Engagement: Video allows leasing agents to engage with potential renters on a more personal level. By showcasing the property and amenities with video, leasing agents can create a connection with potential renters that goes beyond what can be achieved through static images or text descriptions.
Personalization: Video allows leasing agents to tailor their messaging to each potential renter's specific needs and interests. In 2022, personalized videos had a click-to-open rate of about 16 times greater than standard videos. By creating custom videos for each prospect, leasing agents can have a more personalized experience that resonates with renters.
Time Savings: In-person tours can be time-consuming for both the leasing agent and the renter. With video, potential renters can get a good sense of the property from their homes, saving both parties time.
Cost Savings: In-person tours can also be costly in terms of time and resources. Using video, apartment managers can reduce costs and allocate resources more efficiently.
Increased Reach: Video can be easily shared on social media, email marketing campaigns, and video hosting platforms, allowing apartment managers to reach a wider audience than they might through in-person tours alone.
Use Evergreen Videos for Your
Leasing Process
You can create many different types of videos that will help you throughout the leasing process. The great news about creating these videos is that once you create them, you can reuse them as much as you need. Here are a few examples of the types of videos you can create:
Virtual Tours: Video for multifamily virtual tours is a great way to showcase the property and amenities to potential renters. Realtor.com found that listings with virtual tours receive 87% more views than those without.
Testimonials: Testimonial videos can help build trust with potential renters by showing the positive experiences of current residents. By featuring happy residents talking about their experiences living in the community, apartment managers can build credibility and generate interest from potential renters.
Promotional Videos: Promotional videos are a great way to highlight the unique aspects of your community and set it apart from competitors.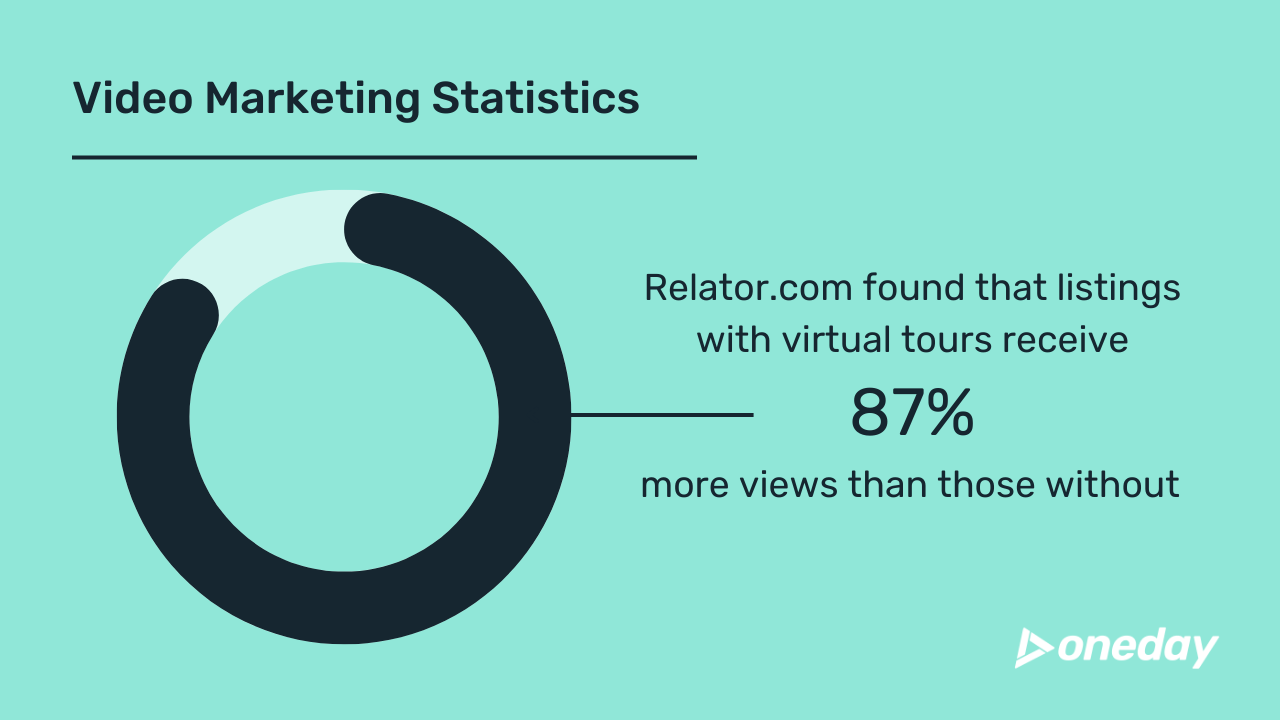 Utilize Multiple Distribution
Strategies to Find Renters
Once you've created your videos, it's essential to have a strategy for distributing them to potential renters. There is no "one size fits all" strategy, but there are a few bases you should cover, including:
Social Media: Share your videos on your social media channels to reach a wider audience. Social media videos get 12 times more shares than text and images combined (SmallBizTrends). When posting on social media make sure to use hashtags and other relevant keywords to increase visibility.
Email Marketing: Include your videos in your marketing campaigns to engage with potential renters directly. Be sure to include a clear call-to-action to encourage renters to take the next step.
Video Hosting Platforms: Host your videos on a platform like YouTube to increase visibility and reach a wider audience.
Use Analytics to Measure Your
Success
To ensure that your video marketing campaigns are effective, it's important to track your metrics, so you have the best possible data to guide your strategy. Here are a few key metrics to monitor:
Views: Track how many people view your videos to gauge overall interest.
Engagement: Monitor engagement metrics such as likes, comments, shares, and click-through rates to see how well your videos resonate with your audience.
Conversion rates: Track how many people are taking the desired action after watching your videos, such as filling out a lead form or scheduling a tour. This knowledge will give you a clear picture of how your videos impact your bottom line.
By measuring these metrics, you can determine what's working and what's not and adjust your video creation and distribution strategy accordingly.
OneDay: Your Video Partner for
Multifamily
Now that you know why you should use video in your centralized leasing process, you might feel uncertain about how to get started. OneDay is the hassle-free way to share personalized videos that will help you to streamline internal processes, shorten the leasing cycle, and attract and retain top talent. From virtual tours to testimonials, our experts can help you create compelling video content that showcases your properties in the best possible light. Plus, with our easy-to-use video platform, you can distribute your videos to potential renters across multiple channels and analyze the results after. So, schedule your demo with us today and discover how the power of video can take your multifamily business to the next level.