In today's employment landscape, using video to boost recruitment is necessary to stand out in the crowded job market. Now, more than ever, candidates are in the driver's seat, and it takes more than a title and job description to get their attention. Having a video in your job postings results in 800% more engagement, and that is not a stat that, as a recruiter, you can ignore. Beyond recruitment, using video communications throughout the hiring process and through onboarding leads to greater retention and employee satisfaction. Let's take a closer look at how having the right recruiting videos can boost your hiring rate!
Rise Above Your Competitors with
Video Job Postings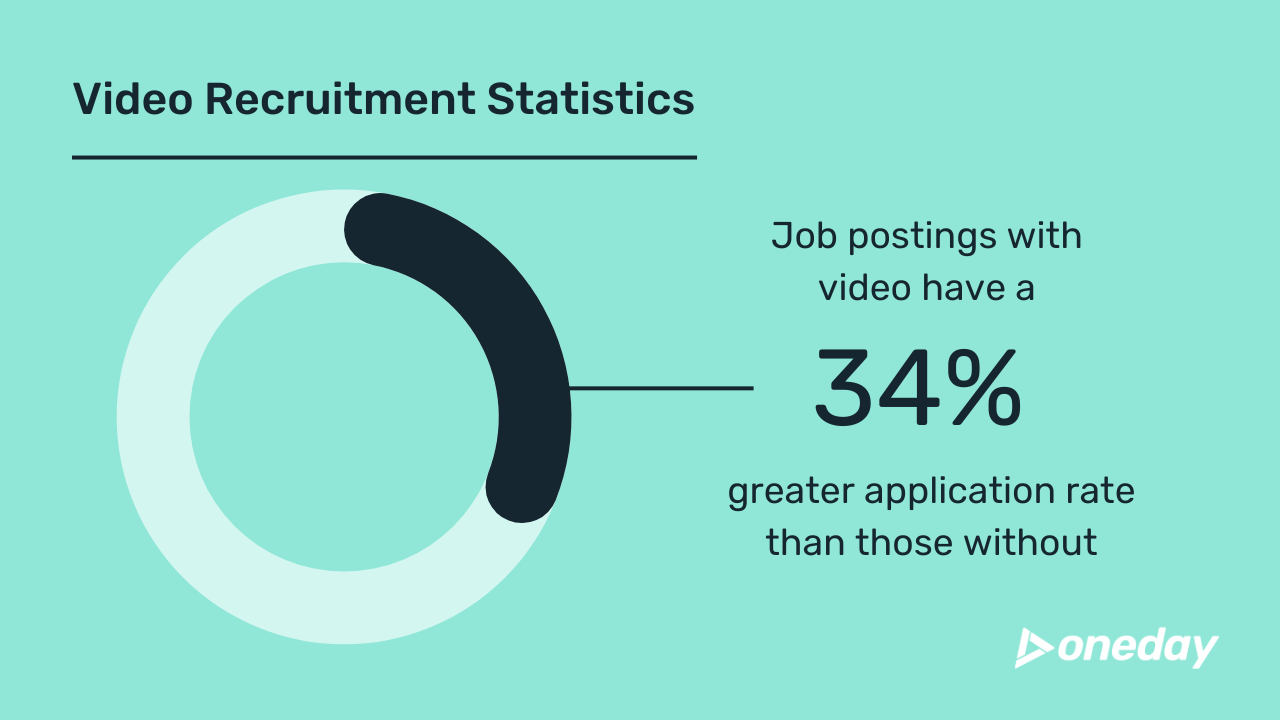 Having clear, enticing videos with your job postings is a way to receive more engagement and attract quality candidates. You can create a quick video thumbnail on your job listing for optimal results and embed a more detailed video within your job post. You can showcase the position, benefits, employee testimonials, and company culture using video. Below are statistics that illustrate just how vital recruitment videos are to finding your next employee:
Job postings with video icons are viewed 12% more than postings without video
Job ads with embedded video get 800% more engagement
Job postings with video have a 34% greater application rate than those without

80% of respondents believe video has helped increase the volume of applications

78% say video has helped increase the quality of applications

88% of respondents who have used video believe it generates more responses from passive candidates
Video posts on LinkedIn are shared 20 times more than other formats
Enhance Your Hiring Process with
Video Communication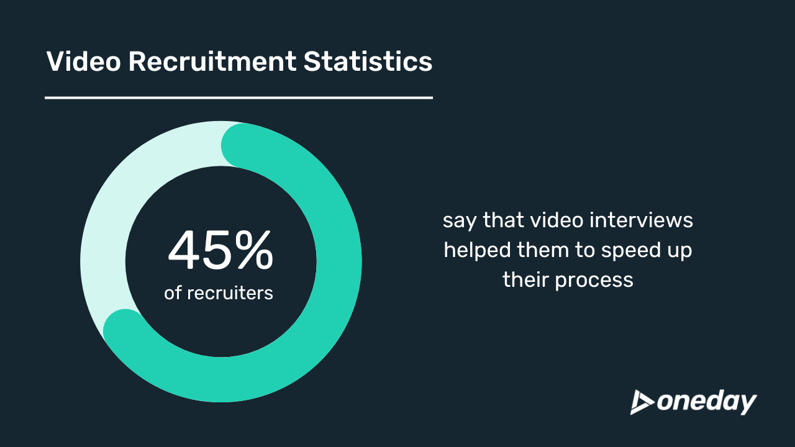 During the pandemic of 2020, recruiters replaced in-person interviews with video communication. Interestingly, recruiters found that instead of video being a hindrance, many found that video interviews and communications accelerated the hiring process. Using video for hiring allows you to recruit the best talent from around the world without being limited to your geographic area. Candidates also prefer video interviews, as it will enable them to be in a comfortable and relaxed setting during their interview. Let's take a look at the latest stats, which show the trends of using video for the hiring process:
Video technology is being used by at least 60% of hiring managers and recruiters
A survey of 506 companies revealed that 47% use video interviewing to shorten the hiring timeframe, and 22% would consider it for interviewing candidates that aren't local
45% of recruiters say that video interviews helped them to speed up their process

Pre-pandemic 22% of employers incorporated video interviews into their interview process – as of January 2021, 79% are now conducting video interviews regularly

There has been a 57% increase in the use of video interviews from 2019 – 2023
Set Your Candidate Up for Success
With Video Onboarding
Having video resources during the onboarding process sets your candidate up for success. By providing resources for your new employee, using video, you will help them to retain knowledge about their new position and company expectations. Video is also an excellent vehicle to help your new hire with their initial and future training as they seek to advance within your company. The stats below tell the story. If you want your candidate to succeed, video is one of your best tools to help them:
Create This Simple Recruiting Video
to Get Started!
It might seem overwhelming to start if you have not utilized recruiting videos before, but you can start with one simple video! A great idea to start is to film a simple employee testimonial video where they can share how much they have enjoyed working for your company and the benefits. Studies show that your current employees are the most trusted resource for recruiting videos, so filming one is a simple way to get started and get on the road to creating your recruiting video catalog.