Video is our window into the world; it shows, teaches, and allows us to connect. Since the pandemic of 2020, video posts have been shared 1,200 percent more than text and image posts combined. As a marketing professional, that is a stat that you can't ignore. Text-only marketing campaigns can't permeate and connect with consumers the way a video marketing campaign can. So how do you start? To maximize your campaign's potential, you need to know what types of videos to film, statistics on how to amplify your results, and how to use video marketing to form lasting connections with consumers that will pay big dividends.
Make Marketing Videos That Pop
How do you ensure your video can break through the daily advertising noise that bombards consumers? The answer is simple. Your video can stand out if you know your audience, wow them, and understand how you want the video to convert. Once you know what you want your audience to do, that will guide the type of video content you create. Let's take a closer look at the types of videos you can create depending on your marketing goals:
Brand Videos - A brand video is designed to show the consumer who the brand is, its vision, and what they have to offer. These videos aim to build awareness and intrigue about the brand to build your audience.

Demo Videos - A clear, concise, and visually appealing demo video is a powerful tool to show your products or services in action. These videos can range from a simple unboxing to a full 360° demonstration of your product.

Event Videos - Promote your next company event, or create a highlight reel with a video after the event is complete.

Personalized Video Messages - A personalized video is a fantastic way to connect to your customers after an event, tour, or demonstration. You can use this video to thank them, invite them to future events, or even follow up on an online inquiry with a message just for them.

How-To Videos - These videos teach the consumer how best to use your product or service for maximum customer satisfaction. A well-done how-to video helps to prevent consumer frustration and reduce customer service calls.

Case Study or Testimonial Videos - Consumers are savvy and want to ensure that the product or service they purchase is a worthy investment. A testimonial or case study video provides reassurance and gives the consumer confidence to make their purchase.

Company Culture Videos - These videos can be used internally and shown to the public to let employees and consumers know the company's culture and values. Consumers and employees are increasingly concerned about aligning themselves with companies that share their values.
Why Video Matters- It's All in The
Numbers
Understanding the types of videos you can use as a marketer is great, but will video be a game changer for your campaigns? Based on the statistics, the answer is an unequivocal yes. So let's take a closer look at some statistics that will show you the difference using video in your campaign can make:
Creating Connection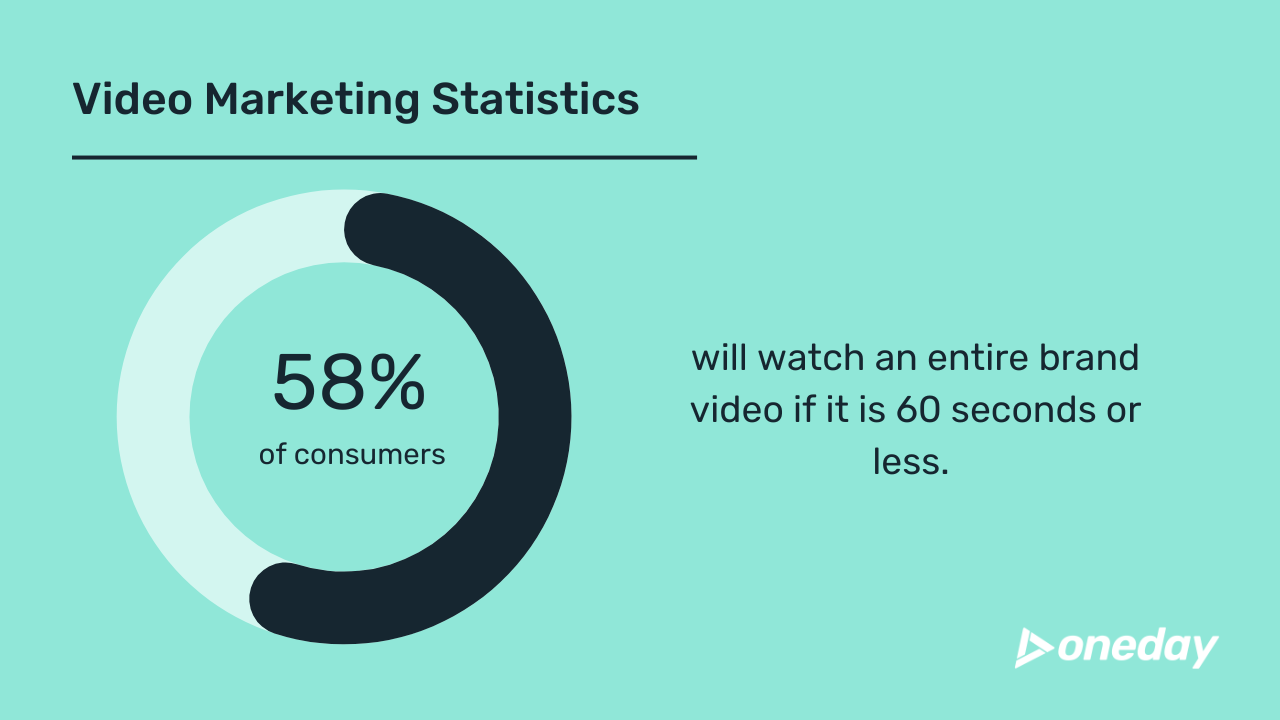 Today's consumers watch more videos than ever from their smartphones. In fact, on average, a consumer spends 6 hours and 48 minutes per week watching online videos. So an effective video marketing strategy has to consider this and create videos that can easily be watched and shared straight from the consumer's phones. So how can you ensure you are creating videos that are being watched and shared? Here are a few things to remember when making your videos to ensure you are connecting with your consumer:
Keep Videos Short and Sweet - 58% of consumers will watch an entire brand video if it is 60 seconds or less.

Understand Your Platform - If you create a video for Facebook, most consumers watch their videos without sound but prefer longer videos. Instagram users respond best to videos that are around 26 seconds. Take the time to consider both your audience and platform to make the most effective marketing video.

Tell a Clear Story - Consumers surveyed say the top two things for an engaging video are a clear message/storyline and authenticity. Have a clear goal for your video and make sure you use a voice and style that is true to your brand and mission.
Getting Started
Creating video content for your marketing campaign needs can seem overwhelming. You know you need these videos, but how do you make them? To start, think about the types of video marketing content you want to make, which will guide what you need to get started.
For more intricate videos with high production value, investing in good equipment, lighting, and a background set will be your first step. If you want to start more simply with personal messaging videos, you will find video messaging software that can guide you through the process.
Starting can be the most challenging part, but once you incorporate video content and see the difference in your conversions, it won't be long until video marketing becomes the critical element of your future campaigns.